Leave It All on the Table Series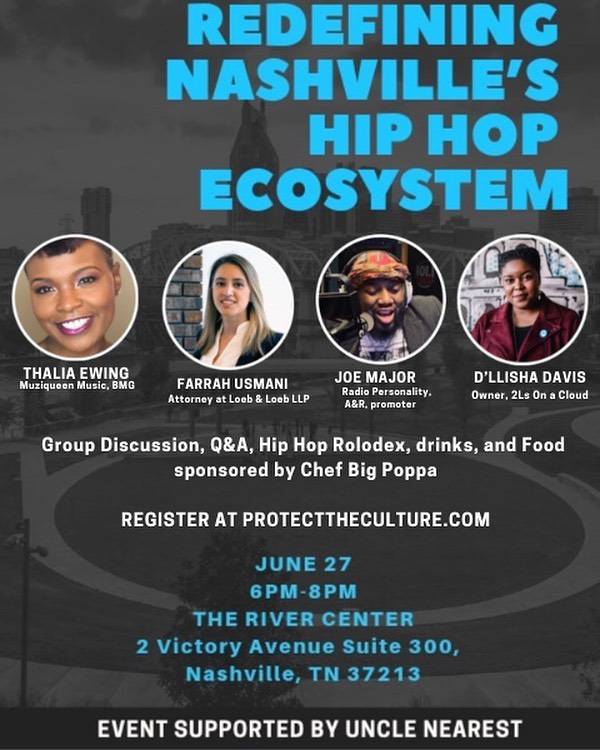 Join Nashville's Hip Hop Community on Thursday June 27th!! We are super excited that we are having these conversations and striving to provide more for our communities.The "Leave It All on the Table" series is a series of conversations that stand near and dear to 2Ls on a Cloud owner, D'Llisha Davis.
Each speaking engagement will reflect on a direct focus point of a topic that surfaced in Nashville quite often. The first discussion reflects the Nashville Hip Hop Ecosystem.The 2Ls on a Cloud brand became a valued platform in 2012 after Davis held her first local showcase of Nashville Hip Hop and R&B artists.
The hand to plow work that has been done within the Nashville Hip Hop scene has been cultivated by many influencers who seek to expand the awareness of the scene in several ways. The issue faced is working together, smarter, and understanding what it takes to grow as a unit.With the conversation taking place June 27, this will be a way to organically face any issues and frustrations that have surfaced in the community.
This is also a conversation on where the hip hop scene could potentially go if we do not actively work with our allies and community. The city faces transplants everyday that seek to bring new business and companies to the Nashville community. That same goal has been focused on the Nashville Hip Hop scene. Transplants and minds that see dollar value before talent is now the focus.
With this discussion we are looking to provide information on how to navigate the city, ways to work with allies across the music scene in and outside of Nashville to assist in our growth, and we will create a Rolodex to provide to attendees that focuses on The Who's who of the scene.June 27 is JUST the beginning of our plans of refocusing in on our own community and moving forward TOGETHER.
Uncle Nearest will support the event with beverages and Chef Big Poppa will prepare food. Registration is still open!
Register at protecttheculture.