Stop Trying To Beat The Social Media Algorithm
by I AM THE LIST
June 25, 2019
Stop Trying to Beat the Social Media Algorithms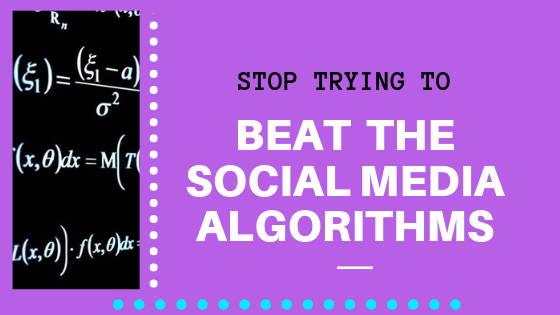 We are excited to share this with you all! Make sure to drop a comment and let us know what you think! Tips from Creatives is a series we started to bring weekly tips to people that are like us, creative! Some of the content will be from other creatives so that you get a well rounded view of different subjects. 
This is our first guest blog, and the tip for today is S-T-O-P! Yes, stop. Stop trying to beat the social media algorithms. We know that everywhere you turn there's someone new trying to give you the inside scoop on beating the algorithm, but we're here to tell you that it's a waste of your time. No matter how in the loop any expert claims to be the keepers of the digital space have made it very clear- engagement trumps all.
At Facebook's annual F8 Conference user engagement and personal connections were major topics of discussion. When asked about recent changes to Instagram and those currently being tested Chief Adam Mosseri stated, "...we want people to worry a little bit less about how many likes they're getting on Instagram, and spend a bit more time connecting with the people they care about."
So, what does this mean for influencer and bloggers trying to grow their audiences?
For starters, it means that it's highly likely that the game will be changing. Shifting the focus from likes and follows to engagement rates will close the gap for a lot of content creators who may get overlooked due to lower follower counts but have a super-engaged community.
If you're not already, it's definitely time to start looking at the community you're curating online. Brands are looking at photo captions and how users respond to them more now than ever. Getting your content in front of the right people will take some time, but it's definitely worth it.
 Try these tips below and get started on curating your most engaged audience.
1. Get out of that Instagram pod- We really hope no one is still doing this but if you are, leave now. IG pods are typically filled with people who create similar types of content. If those are the people most engaged with your posts then those will be the people who see your posts the most. If you not tracking: THEY ARE NOT YOUR AUDIENCE and they will not help you create a genuine community.
2. Post when you have time to engage- You can't expect people to want to engage with you if you aren't willing to do the same for them. After you post something to your profile ensure that you have at least 10 minutes to spend engaging with other people's content. Use this time to do more than just like and scroll. Read some captions, follow the links, and come back with a genuine comment.
3. Respond to your comments- This is easy and important. No one wants to feel like they're just throwing comments down an empty well. If someone takes the time to leave you a comment, be kind and respond. Responding to comments creates conversation and conversation creates personal connections.
4. Follow accounts you actually want to engage with - There is no rule of reciprocity on social media. You don't have to follow and like everyone who follows and likes you. Curating the community you follow is just as important as curating the community that follows you.
If you're looking for more information about creating a loyal online community and creating a profitable online platform then be sure to grab your ticket for the Nashville Blogger Bash. Travel blogger Sam Cormier will be sharing her in-depth guide to creating a picture perfect Instagram that attracts engaged users and paying brands. Community building gems will also be dropped by our brunch keynote. We will be making the announce via social media tomorrow, and with over 300K active followers we've dubbed her the queen of Facebook.
Have a great rest of your week!