5 MISTAKES YOU'RE MAKING WITH YOUR BUSINESS INSTAGRAM PAGE
& HOW TO FIX IT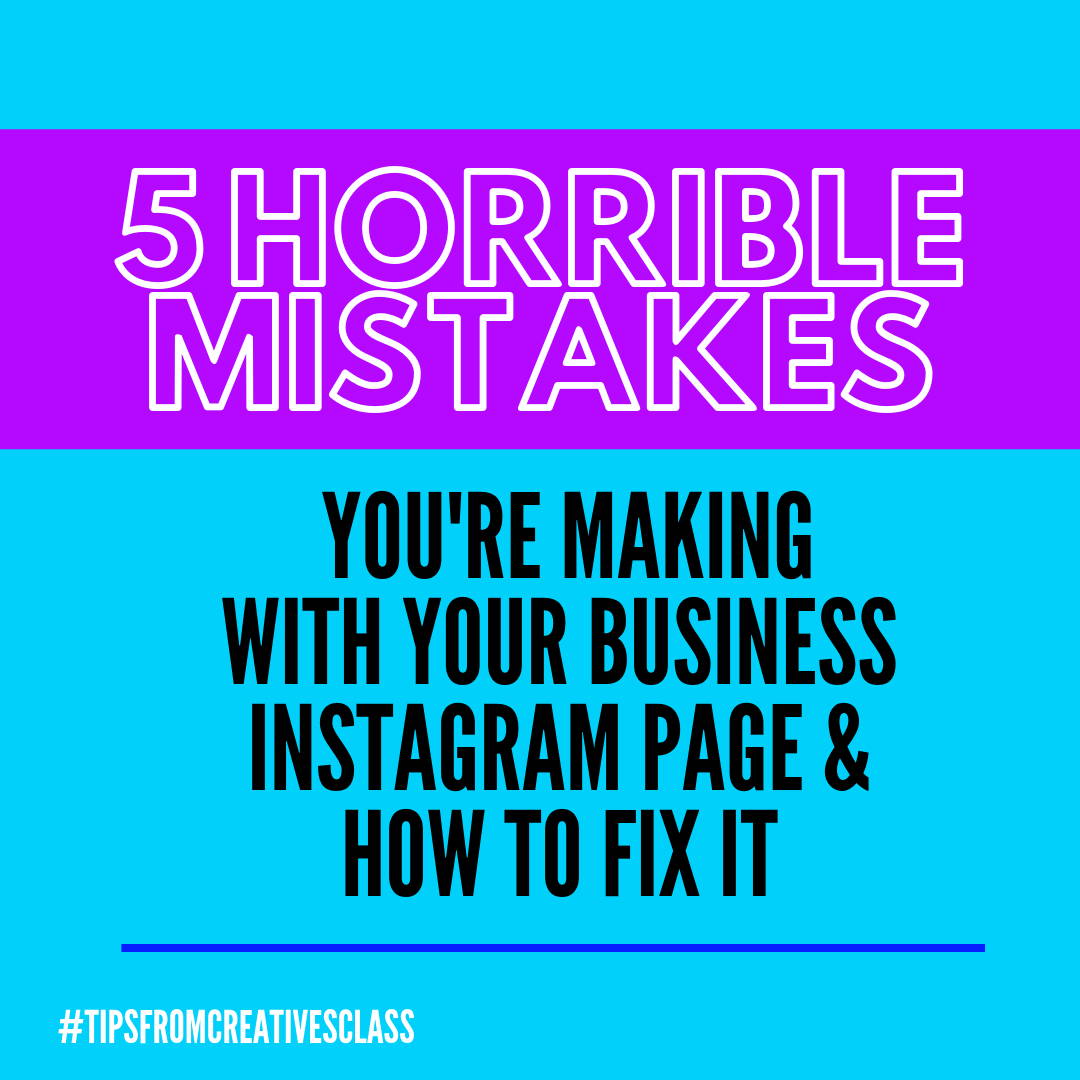 The algorithm changed and no one is seeing your posts. This is the most commonly used phrase we've heard. If you've said this, this blog is for you. Take a look at some of the top mistakes most people make on their Instagram page.
Mistake #1
YOU'RE NOT USING INSTAGRAM STORIES
Instagram Stories appear at the top of your audience's feed for 24 hours. It also gives you the opportunity to post more often, give updates, and gain more brand awareness. The photos and videos on your story don't get saved to your feed. This means you can still market to customers on Instagram but leave your feed uncluttered.
HOW TO FIX
Create a behind-the-scenes video.

Create a tutorial on using your product.

Create a sneak peek at a new product.

Share posts of other businesses.
Mistake #2
YOU BOUGHT FAKE FOLLOWERS
You will not get any genuine engagement from purchasing Instagram followers. Sometimes they aren't even real people at all, just fake bot accounts. Instagram is cracking down on fake accounts and third party applications that follow, unfollow or buy followers.
HOW TO FIX
Pick an Instagram profile name that is catchy and is easy to remember.

Make your account public so that Instagram users can see your profile and content.

Post a variety of content on your feed. Include images, Boomerangs, GIFs videos, how-tos, and user-generated content.
Mistake #3
YOU DON'T USE THE RIGHT HASHTAGS
Hashtags help to categorize your content so that it gets shown to the people most likely to be interested in it. If you have too many tags, it will seem like you are trying to game the system. When used correctly, Instagram hashtags can help you grow your reach, get more engagement, and attract more followers.
HOW TO FIX
Use Instagram's search function. Type a keyword that's relevant to your brand into Instagram's search bar, then select the Tags tab. Instagram will give you a list of all the hashtags with that keyword, as well as a number of posts that are tagged with it.

Create your own brand hashtag. Make it your company name, or a tagline that people know (or will know) about your business.

Check out what hashtags your competitors are using and use hashtags that influential people in your industry are.

Don't use irrelevant hashtags (or the same ones over and over).
Mistake #4
YOU'RE NOT POSTING ENOUGH
To be on top of people's mindy, whether you are a brand or an influencer, you should be posting regular content. By posting on a consistent schedule, you will stay relevant and active amongst the community, and this will have a positive impact on anyone who comes across your account.
HOW TO FIX
Commit to a posting schedule that you can maintain.

Start scheduling Instagram posts.

Write your Instagram captions ahead of time so that you can plan out your calls-to-action.
Mistake #5
YOUR INSTAGRAM BIO IS BLANK OR NOT DESCRIPTIVE ENOUGH
Since your Instagram profile is the new homepage, having a good Instagram bio is more important than ever to help you attract new followers for your business. Just like your goal is to convert visitors into customers with your website homepage, the goal of your Instagram profile should be to convert visitors into followers. A good Instagram bio explains what your business is and what you do.
HOW TO FIX
Use the Name Field to share your top targeted keywords. Many people opt to use their business username in their bio, creating a lost opportunity because the words you include in your name field are actually searchable on Instagram!

Add clickable links within your Instagram bio to mention related accounts and share your brand's hashtag.

Include a Call-To-Action for the link in your Instagram bio.

Share your best Instagram stories as highlights on your Instagram bio.
Use these tools to help you gain more followers and have more people talking about your business. Instagram is becoming more popular by the day and is one of the first places people search for your business. Hopefully these how to's were valuable. Thanks for reading!